INTRODUCING

Connex Pro Addon Board
A cutting-edge RGB LED control board meticulously designed to trigger turn signal, braking, and reversing functions.
This addon board is completely compatible with any Rhino Controller,
Patriot Mode - Red / White / Blue & Red / White / Green
Strobe Mode - 5 strobe mode speeds.
External and Internal Blinking Capability - Allows to tie in external turn signal module to our system
S.O.S Mode that Strobes Amber/White, Red/Blue and more color combinations throughout the whole system.
12v Turn Signal Outputs - L / R Turn Signal relay triggers to connect external 12 volt lights.
Street Only Mode - Ability to Turn the lights black ( OFF ) with a flick of a switch, but keeps the turn signal, reverse and braking functions
INTRODUCING

Dual Color
Pod Lights
Dominate the Darkness! Lighting the Path to Adventure.
Using the largest LED we could slam into precision-machined CNC Miilled housing.
Dual Color - Red, Blue, Amber, or Green as a secondary color
Massive Center LED - 40 Watt 7mm x 7 mm Cree LED
Linkable - Flat, 5°, 10° Rear Linking Brackets
Dynamic Software most advanced software to control temperature and amp draw.
Compact Size 2.6" wide, 3" tall, 2.5" deep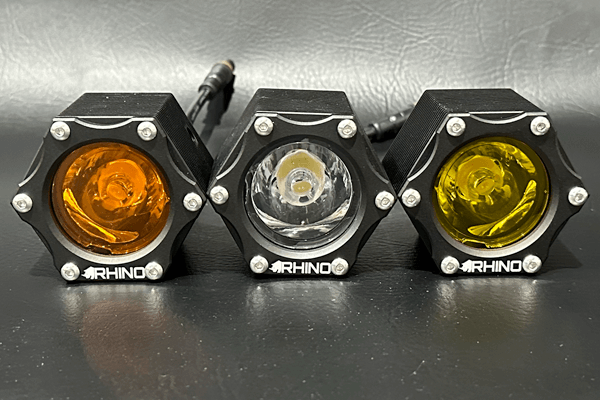 Bundle Builder
Build your elite lighting bundle!
The industry's foremost lighting system, renowned for its unparalleled quality.
---
---
Tell us your experience with our products!
We appreciate the support and reviews as it helps us grow.
Innovation, The Pudding is in the Numbers:
Customer Support
We are commited to providing top notch customer support and documentation.
Fast UPS Shipping
We build to stock, so orders can ship next business day via ground, 2 day air mail or next day.
Fully Customizable
We have the ablity to build custom kits to meet your needs on any application.
Amazing Technology
We develop our own technology to power our eco system.
Quality Control
We have multiply layers of quality control to eliminate issues before they leave our shop.
Made in USA
We are located in Huntersville, NC where we build, abuse, support and test our products.
Subscribe To Our Newsletter
Sign up to get all the latest information on early access to new products, upcoming products, raffles and more!