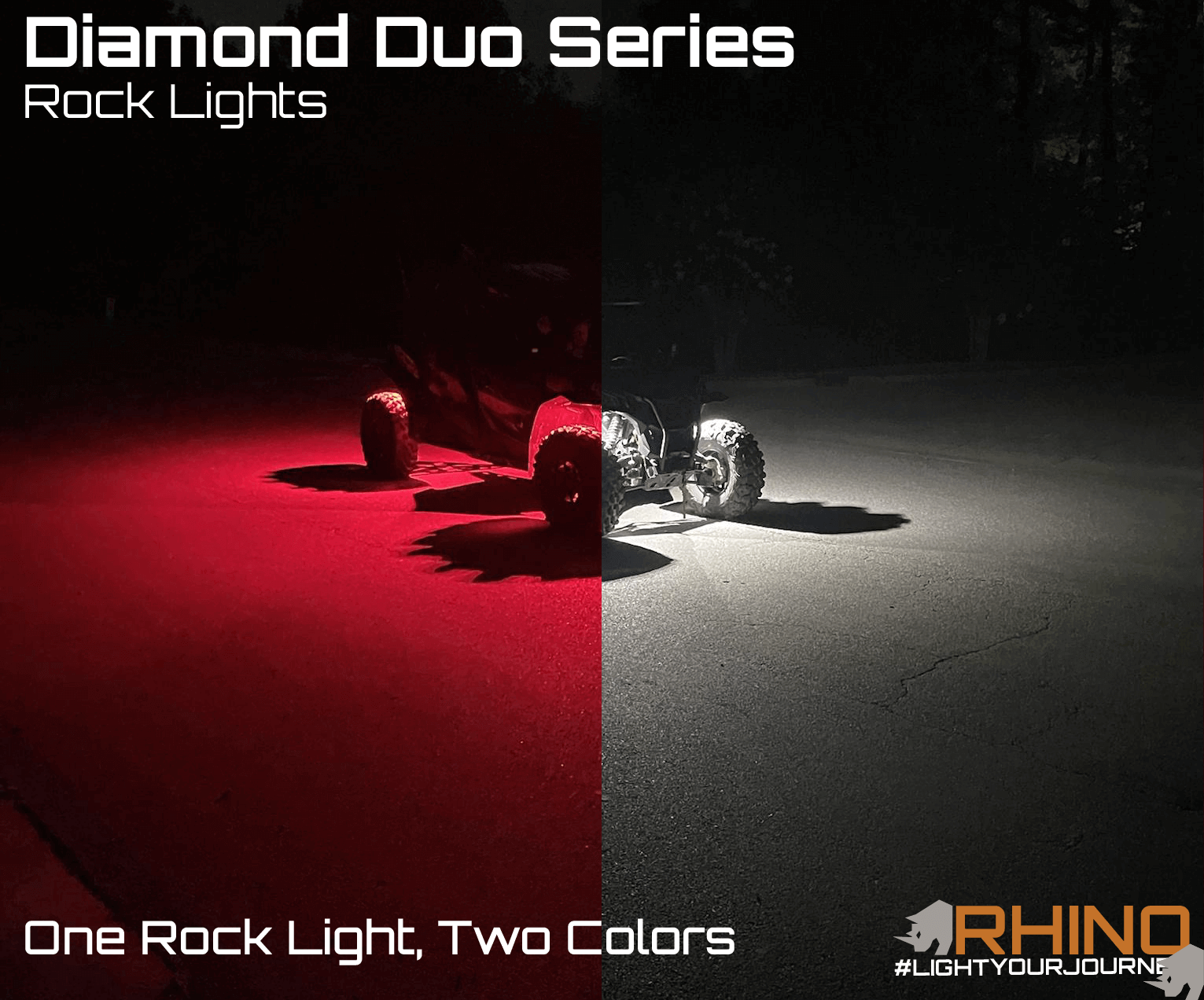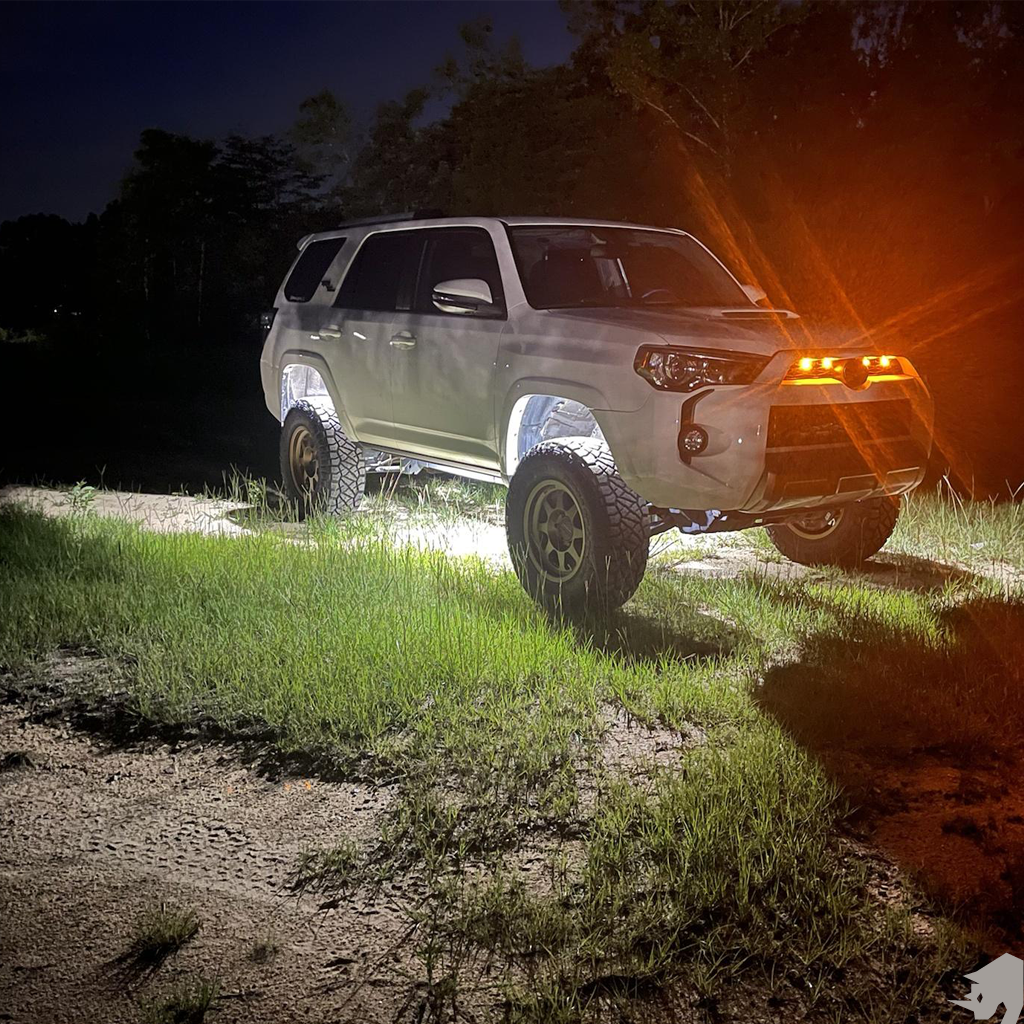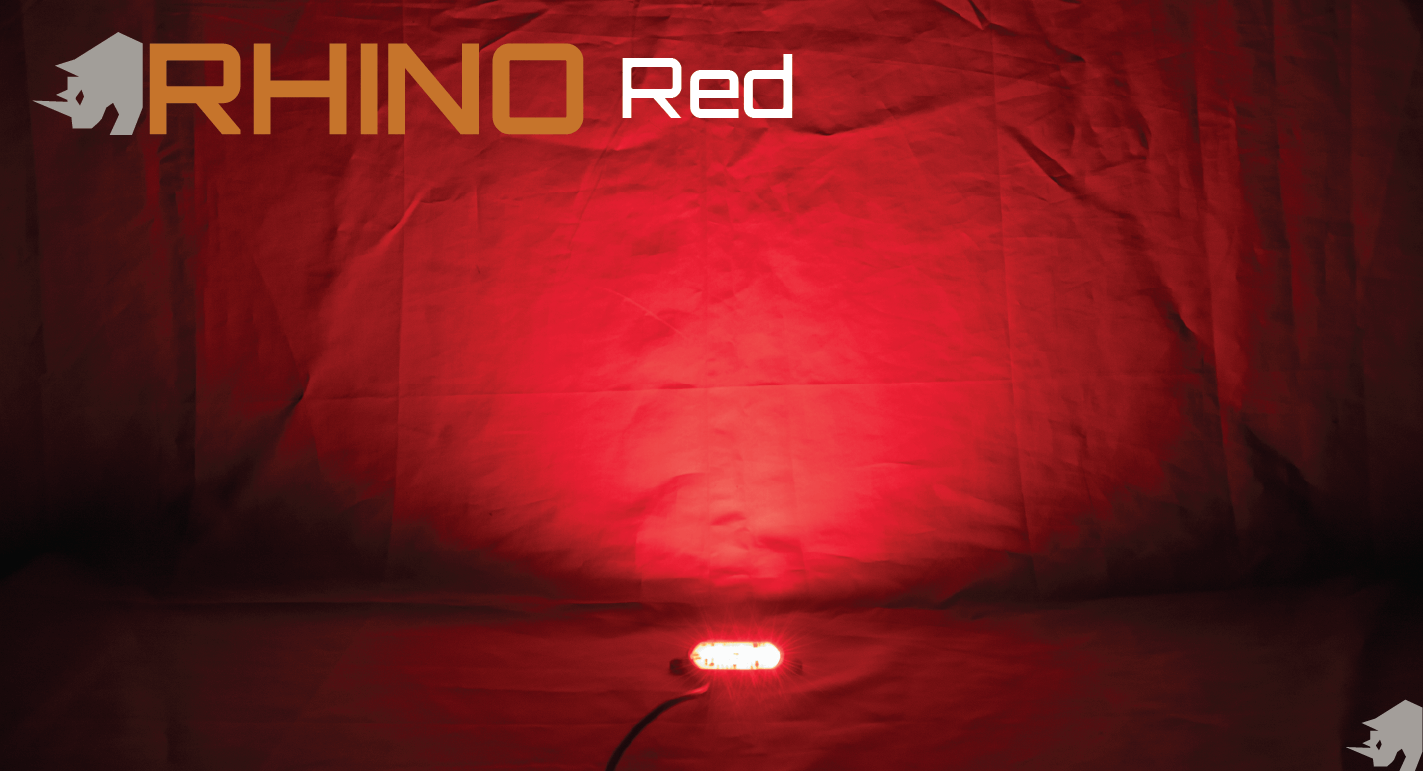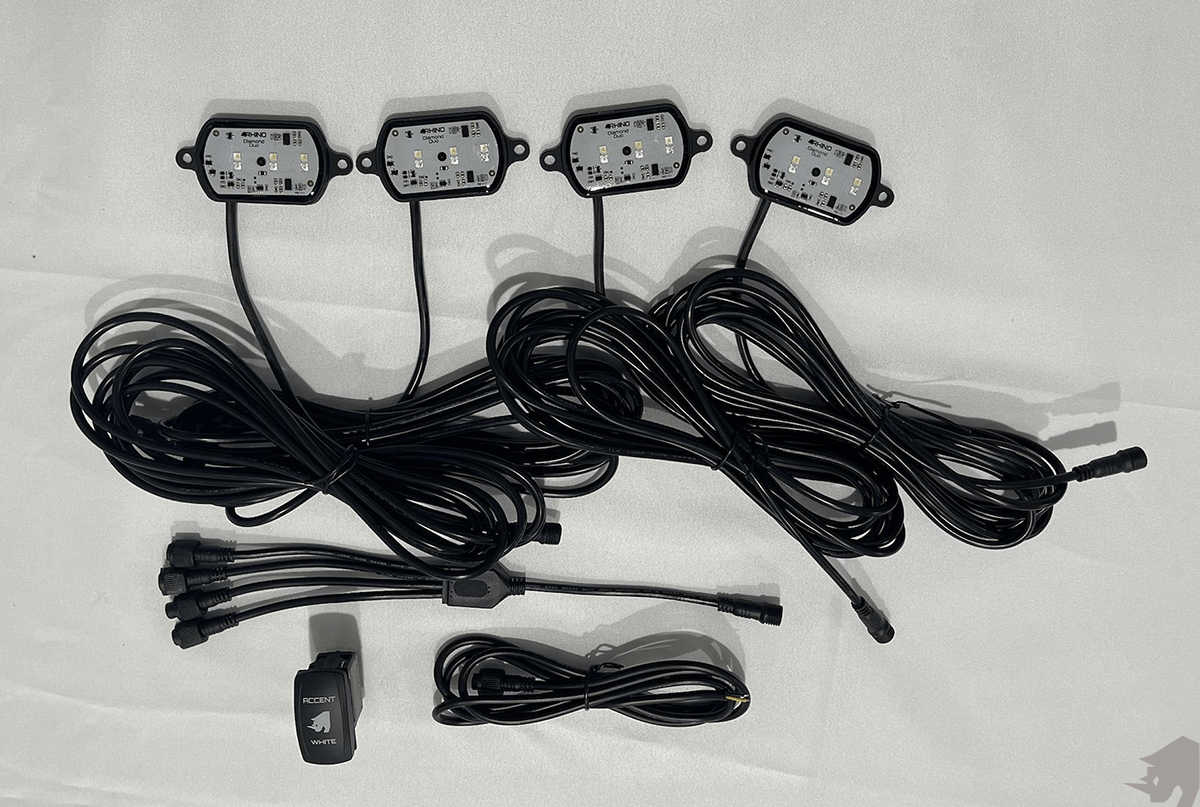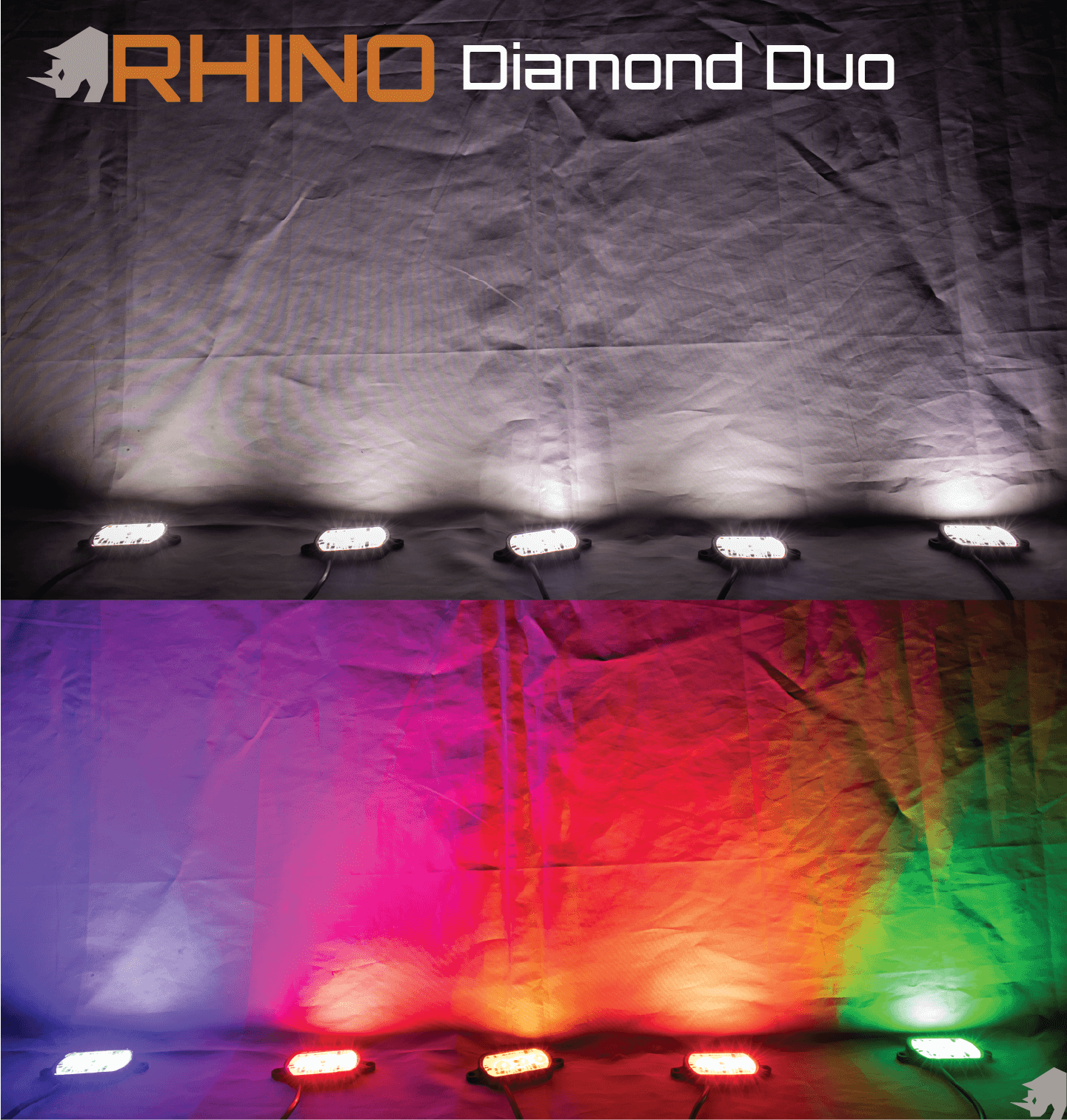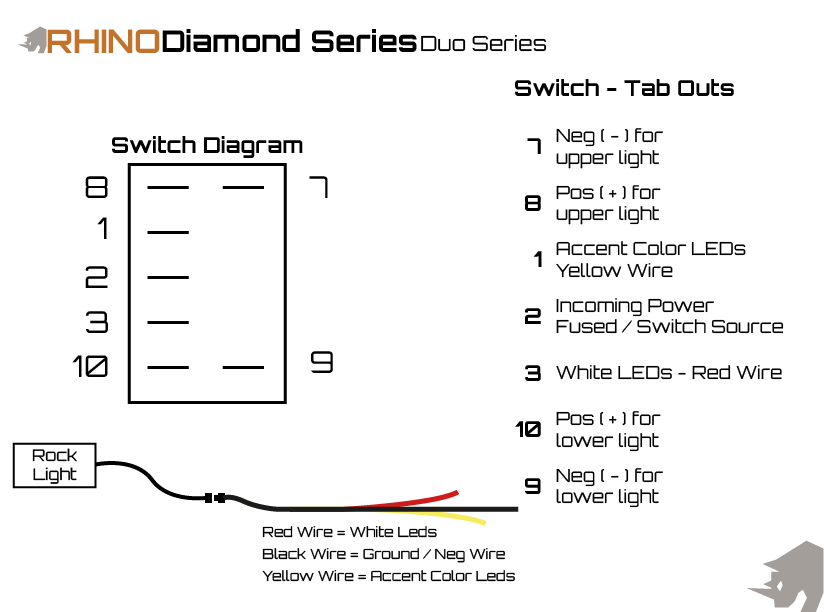 $85.00
AVAILABILITY: IN-STOCK
SKU: 2158
Our Diamond Duo Serie are sold each and only needs 12v power to unleash the power of the cree leds.
Duo means this rock light has 2 channels of single color leds. The primary channel is the color selected below while the secondary channel is WHITE
The Rhino Difference
Local Pickup Available
Best in Class

Customer Service

Call Us for Help! 704-879-3870
You want the Brightest rock light? Our active firmware powered by CREE leds creates the brightest rock light on the market!
Don't let its size fool you. We pack a punch for its size. Duo means two, which means you have 2 channels of color combinations to select from. Turn 1, or 2 channels on at the same time for incredible light output. These are brighter then the RGB rock lights but less versatile as they are single color ( no stacking, chasing, patterns modes ). Using our full CNC 6060 T6 aluminum housing with our proprietary IP69k waterproof resin that WILL NOT YELLOW in the sun. Pick your two flavors of color or go full white shelling out over 2,000 lumens each of light output at over 20 inches away spreading around 200 degrees due to our dome filling of resin.
Sold as EACH
Caution: Rock Light can get very hot when used for long periods of time. Please use caution when handling or installing.
Quality:
We are known for building over the top products with extremely high quality. Our Diamond Series rock lights are no different. See the difference:
IP69k Rated
12' Wire Lead from each rock light with positive and negative wires
UV Resistant Hardened Clear resin
American Made and Rhino Engineered 6061t6 Aluminum CNC Milled housing
An Insanely Premium Cree LED Chip that is hand selected to create an insanely bright 6 LED Rock Light Board that is DIAMOND bright. Nothing Shines like a DIAMOND!!
Price is per EACH rock light
12 Volt Power Needed
American Made!
American Engineering!
Backed by our LIFETIME WARRANTY!
The Cooler the Better! Due to the extreme brightness of the LEDs they put off a lot of heat. These rock lights self regulate and they dynamically adjust the LEDs to accommodate the heat. If you can mount the LEDs to metal it will allow them to run cooler and in turn be brighter. We do this to ensure the longevity of the Cree LEDs.
Warning: Do NOT use any harsh chemicals such as acetone, purple power, degreaser, brake cleaner as this will damage the resin. Simple soap and water is enough to clean the rock lights.
| | |
| --- | --- |
| Size: | Unique |
| Colors | Red, Blue |
| Material | 100% Leather |
Contact Us to learn what is in included.