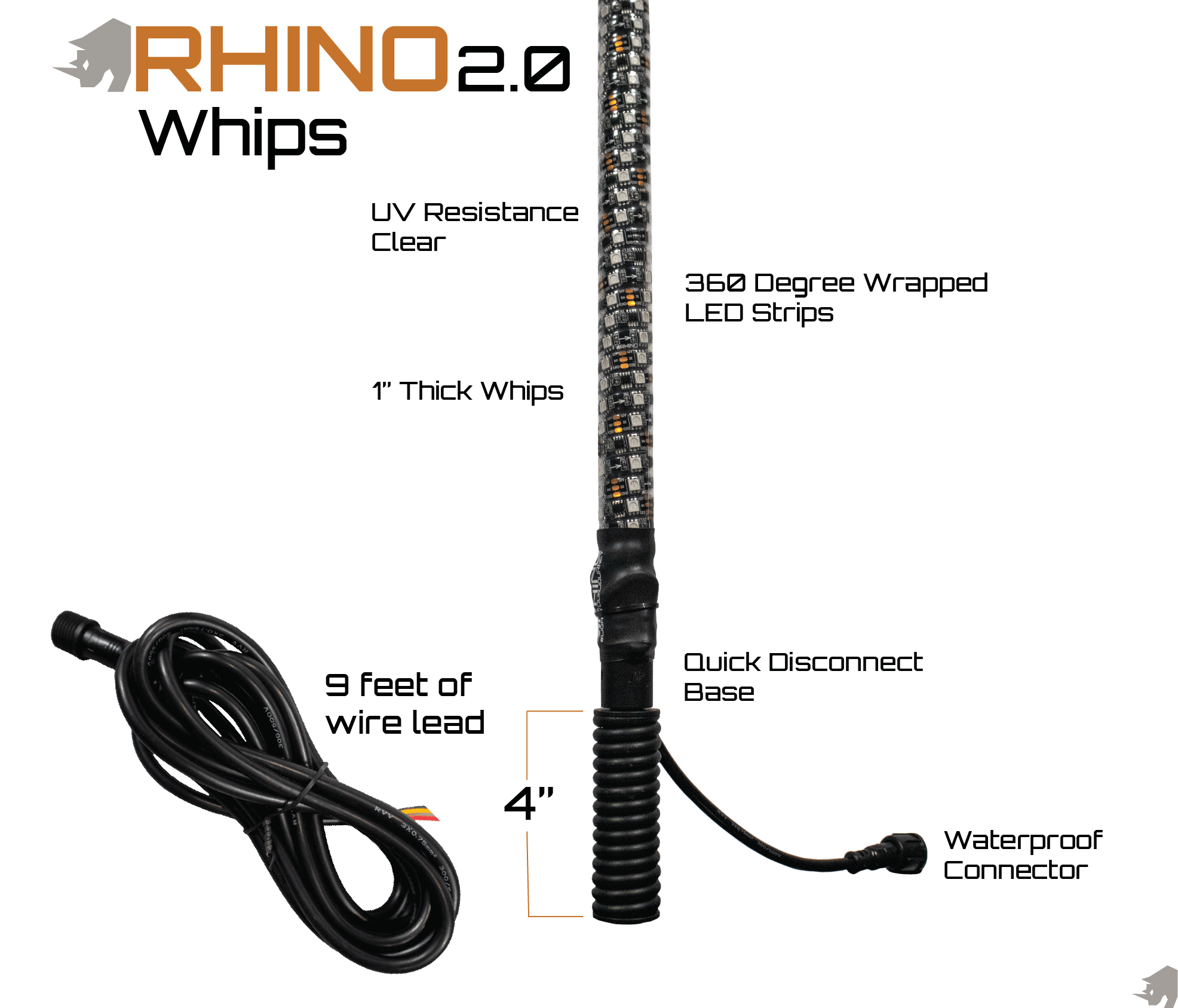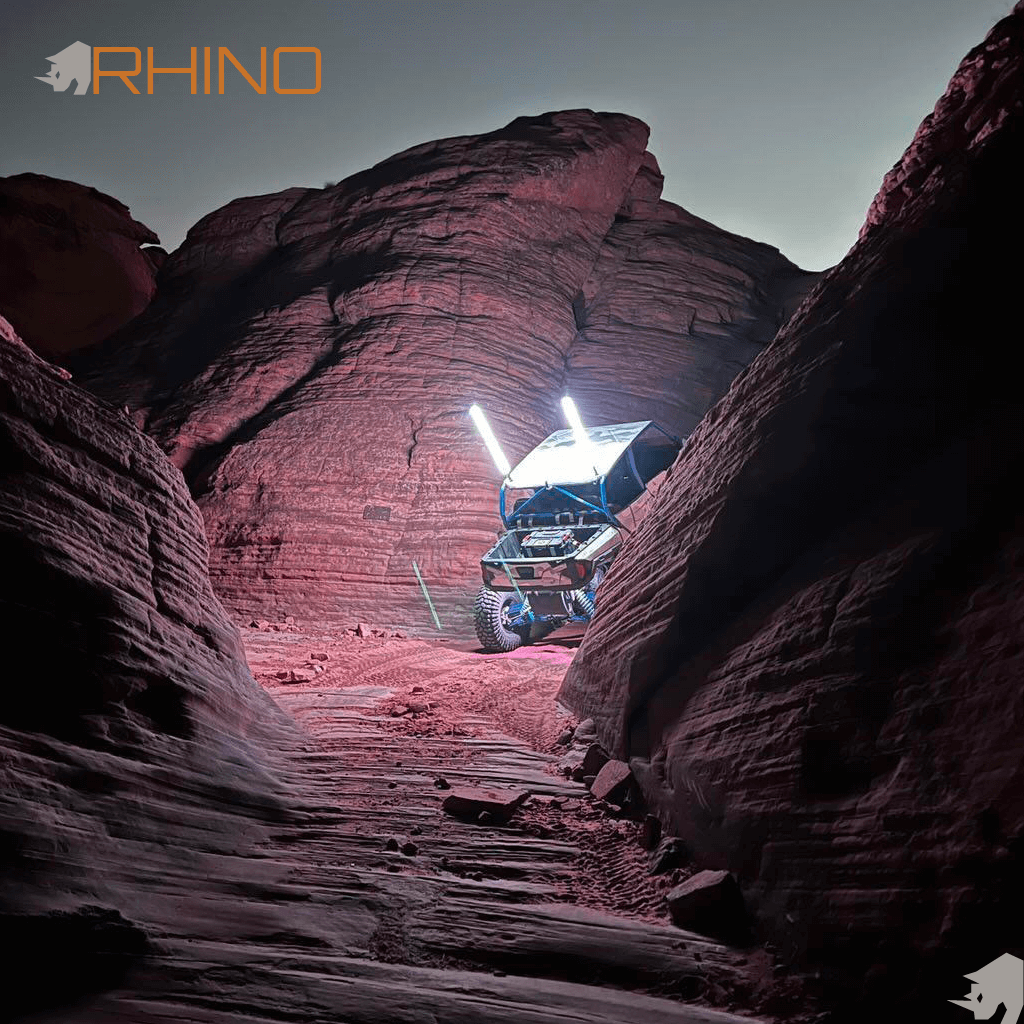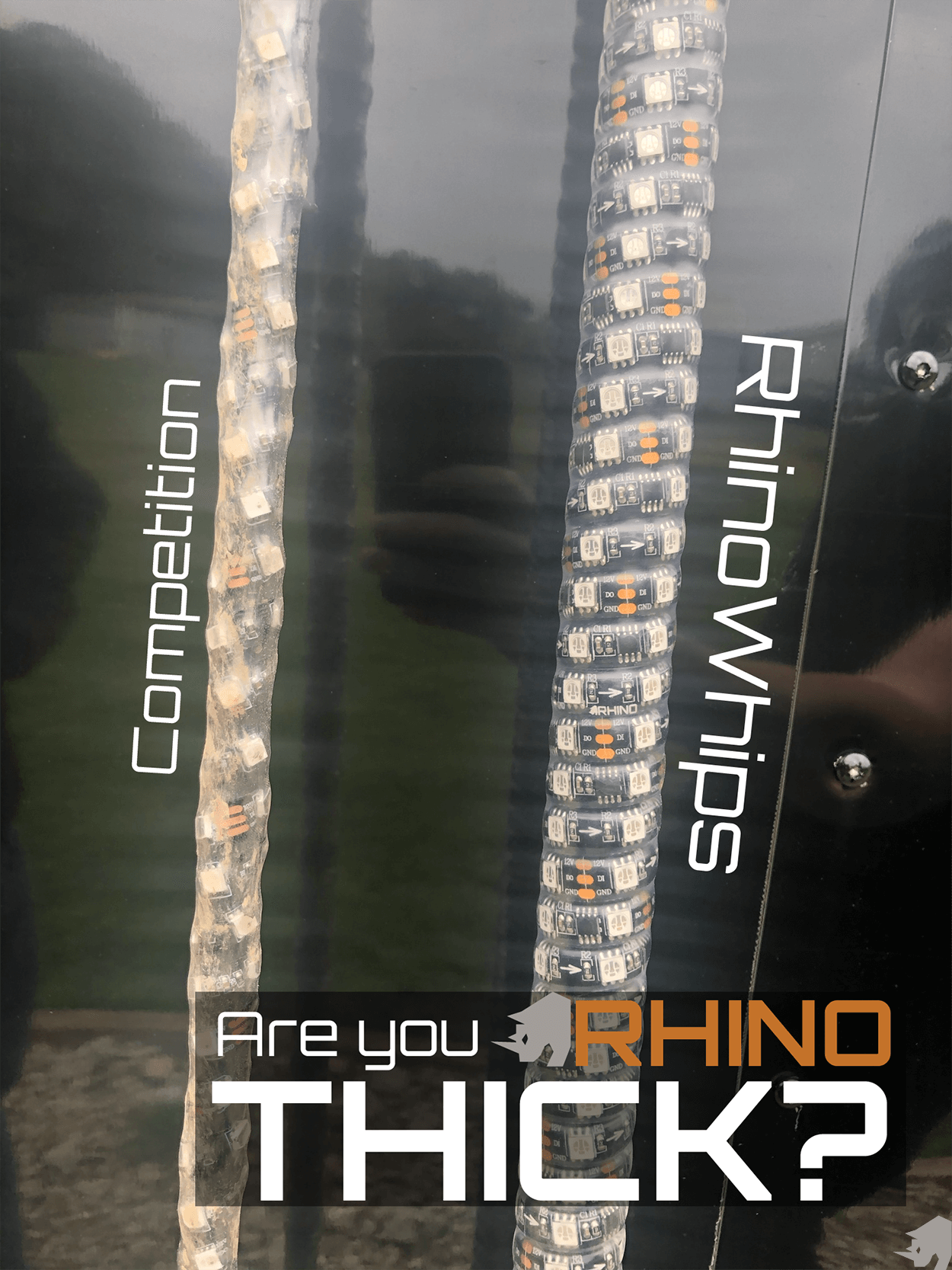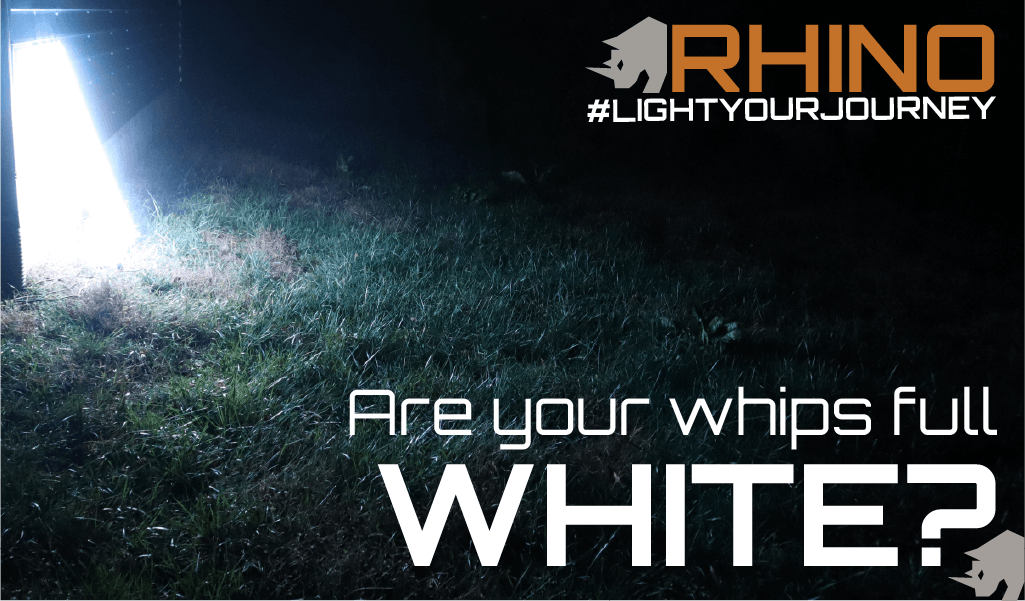 $260.00
AVAILABILITY: IN-STOCK
SKU: 2119
Our Rhino whip has over 108 RGB LEDS with every 12inches of whip because our Rhino Whips are hands down the best and brightest American made whip light that is handcrafted to perfection using our engineered branded LED strip, custom designed metal to metal base, and our high end UV protected heat shrink that will width-stand every element you can throw at it. We engineered all aspects of our whip light to be stronger, brighter and more durable than any other brand on the market with an unheard of lifetime warranty.
We are the THICKEST whip on the market standing at 1" thick because of that we have the MOST RGB leds per foot then any other company to date which makes us the BRIGHTEST!! We have 50% MORE led strips then any other brand! Everyone claims to be the brightest but our many happy customers prove otherwise!! This is our top of the line whips on the market with our custom built anodized quick disconnect anti-clogging system that is included with every Rhino Whip. Our whips use an American made fiberglass rods with 360 degrees of wrapped in house engineered Rhino led strips! Buy with confidence knowing your whips are backed with our LIFETIME warranty!
Want to bundle with our rock lights and halos?
Learn more about our LED Whip base here:
Features:
Anodized 2 piece Mounting system with a quick disconnect pull pin system at only 3"inches tall ( shortest on the MARKET! )
A Metal to Metal quick disconnect anti-clogging system leaves only a stud behind so dirt, sand or mud won't prevent you from attaching or detaching our whips like some of our competitors.
Higher Grade UV protection LED Strip with clear coating
Ultra-Clear PVC Heatshrink that has UV Protection
A keyed quick disconnecting system that allows for faster mounting for the push pin base
Controlled with our In-House Built Bluetooth Controllers
Anodized Quick disconnect INCLUDED at only an AMAZING 2.75 inches tall
12 volt power
Solid Colors, Chasing, Stacking, Dancing, Pulsing and MORE!
Can sync with our Glow Kits, halos and American Made Rock Lights.
Want to add Turn Signal, Braking and Reverse Functionality? Order ourMade in USA Turn Signal, Braking and Reverse Addon Board
Do I need a controllers?
Only Need One: If you already have a rhino product with our controller you do not need to buy another controller unless you want to control them independently.
Our music bluetooth controller has a color slider, 180 patterns including auto cycle mode. Also features 36 MUSIC and DIY patterns that let you customize your colors that will react based on the music/sound it hears. Saves your selection for the next time when you turn on the controller on.
1" thick Whip LED Count
1ft Whip - 6 feet of LED Strip each with about 108 LEDS per WHIP
2ft Whip - 12 feet of LED Strip each with about 240 LEDS per WHIP
3ft Whip - 18 feet of LED Strip each with about 360 LEDS per WHIP
4ft Whip - 24 feet of LED Strip each with about 462 LEDS per WHIP
What springs will i get?:
All Whips: In House Built BLACK Ultra Stiff Springs
| | |
| --- | --- |
| Size: | Unique |
| Colors | Red, Blue |
| Material | 100% Leather |
USA Made Rhino Whip(s) - Depending on Single / Pair Selection
USA Made Black Spring(s) - Depending on Single / Pair Selection
Whip Pigtail(s) - Depending on Single / Pair Selection
Nut and Bolt Mounting Hardware for each whip
Optional: Plug-n-Play Wiring Harness with Rocker Switch